The custom content titles tab offers several bulk change actions that allow  you to apply the same change, or set of changes to a large number of titles at once.
To access this feature, you must first have at least one title selected using the check boxes on the left-hand side.  After selecting at least one title, click on the bulk tools drop down and select bulk change.
Once the bulk change window is open you will be presented with three different sections: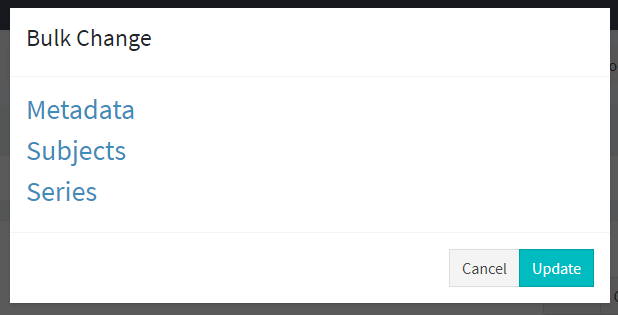 All three sections can be used independently, or together.  You are capable of changing everything you see for the selected titles if you desire.  By default, everything is set to "Do Not Update" if it is a drop down or multi-select box.  Anything left in this state will be ignored.
Metadata fields supported by Bulk Change:
Producer 
Server
Copyright Year
Aspect Ratio
Grade Levels
Expiration Date
Thumbnail Path
Allow Segmentation
Subjects:
You can leave the subjects as "Do not update," add a subject, or delete one.
Series:
You can leave the series as "Do not update," add a series or delete one.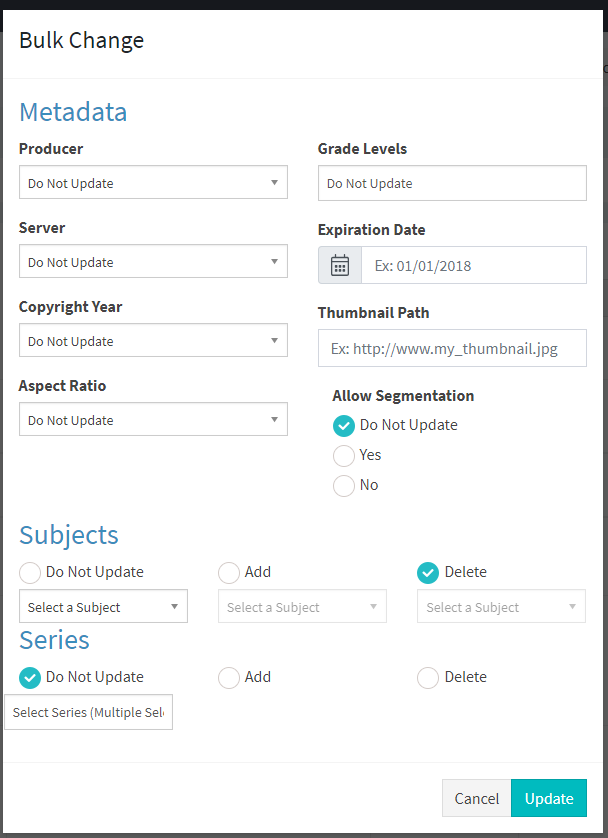 Once you have made your selections, click on the Update button to process your request.  The bulk change window will disappear and you will see the system processing message until your requested actions have been completed.  Depending on the  number of titles selected, and the complexity of the changes, it might require more time to process.